No Sustainable Peace and Security Without Women
Issues:Global militarisation, Marginalisation
There will be no sustainable security if we do not equally value the needs, experiences and input of men and women. A new report published by the Institute of Development Studies (IDS), funded by ActionAid and Womankind Worldwide, examines the role women play in local community peacebuilding in Afghanistan, Liberia, Nepal, Pakistan and Sierra Leone. The report states "despite the increased international attention to women's participation in peacebuilding, the achievements and challenges facing women building peace at the local level have been largely overlooked".
Last week's Guardian article entitled Who creates harmony the world over? Women. Who signs peace deals? Men points to some surprising data on female participation in official peacebuilding initiatives. "There have been no female chief mediators in UN-brokered peace talks and fewer than 10% of police officers and 2% of the soldiers sent on UN peacekeeping missions have been women", reports the article. Furthermore, "fewer than one in 40 of the signatories of major peace agreements since 1992 have been female […] and in 17 out of 24 major accords- including Croatia, Bosnia, Sierra Leone, Burundi, Liberia, Sudan and the Democratic Republic of Congo- there was zero female participation in signing agreements".
An excerpt from The Guardian datablog: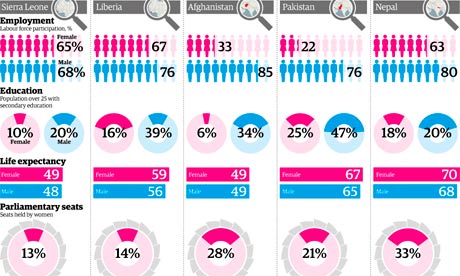 The IDS report found that "women are more likely than men to adopt a broad definition of peace which includes the household level and focuses on the attainment of individual rights and freedoms such as education, healthcare and freedom from violence. In contrast, men have a greater tendency to associate peace with the absence of formal conflict and the stability of formal structures such as governance and infrastructure". It is important to include women in formal peace mediations and agreements as "peace means different things to women and men because of their unique experiences as a result of war".
Additionally, the research established that women have a lot of experience, and are principal actors, when it comes to mediating and decision making within the home and the family. Women are also more likely to come together collectively to create change. However, their "experiences building trust and dialogue in their families and communities are frequently dismissed as irrelevant or are not sufficiently valued by national governments, and the international community".
Some barriers to women's participation in peacebuilding include: restrictive social norms and attitudes, violence against women and girls, poverty and economic inequality and inequality in access to education. The report suggests empowering women through access to justice, creating safe spaces for women's participation and changing attitudes towards peace and valuing women's contribution as key elements to support women peacebuilding.
The 2000 United Nations Security Council resolution 1325 calls for "equal participation for women in the maintenance and promotion of sustainable peace".
Only yesterday, Foreign Secretary William Hague called upon UN Security Council resolution 1325, announcing to the UN General Assembly that the UK "will contribute £1 million this financial year to support the Office of the UN Secretary-General's Special Representative on Sexual Violence in Conflict". "It's our purpose in gathering here this morning to ensure that preventing sexual and gender-based crime in conflict and post-conflict situations is an urgent priority for the international community", William Hague declared, and went on to say "We are convinced in the United Kingdom that we can do more to help […] we can do it as a permanent member of the Security Council, a leading member of NATO, the European Union and the commonwealth and as a nation with one of the most extensive international development programmes in the world."
The IDS report states that although Security Council resolution 1325 was passed in 2000, it has since then been almost totally ignored, not least by the UN itself. Hopefully this time, the international community, including the UK government, will take serious steps towards its implementation. At the same time, it is important to commit to preventing sexual and gender-based crimes, not only in "conflict and post-conflict situations", but also in times of "peace".
No sustainable peace and security will ever be possible, if women's voices are marginalised and if women and men do not work together equally on national and international peace mediations and agreements.
IDS, ActionAid, Womankind Worldwide report From the Ground Up can be read here.
The Guardian, Who creates harmony the world over? Women. Who signs peace deals? Men is available here
The Guardian, datablog Women's participation in peace- how does it compare is available here
Remarks by the Foreign Secretary William Hague to the UN General Assembly can be read here
UN Security Council resolution 1325 is available here
Image Source: United Nations Photo
Delicious
Digg
StumbleUpon
Reddit
Posted on 27/09/12